When we are experiencing dehydration symptoms
Staying adequately hydrated is often touted as a simple yet crucial aspect of maintaining our overall health and well-being. We've all heard the classic advice: drink eight glasses of water a day. But what happens when we fall short of this recommendation? Enter dehydration symptoms – those telltale signs that our bodies are not receiving the hydration they desperately need.
From subtle hints to more pronounced alarms, our bodies communicate their distress through a range of dehydration symptoms. These signs can manifest differently in various age groups, with adults experiencing their own set of indicators. In this exploration, we will delve into the world of dehydration symptoms, focusing particularly on adults and chronic dehydration symptoms.
Dehydration, in simple terms, refers to a state where the body loses more fluids than it takes in. It might seem like a minor issue, but the effects can be surprisingly far-reaching. The common image of dehydration often involves desert-like scenarios, yet it's crucial to understand that this condition can be a concern even in our daily lives – from spending long hours in air-conditioned offices to engaging in moderate physical activities.
Dehydration symptoms speak a language our bodies use to communicate their needs. By understanding this language, we can decipher the subtle whispers of fatigue, dry skin, and more. Remember, staying hydrated is not just about quenching your thirst; it's a vital step towards nurturing your well-being.
Lifestyle Factors and Dehydration
Dehydration isn't solely about drinking water; lifestyle choices also play a pivotal role. Diet, for instance, heavily influences our hydration status. Foods with high water content, like fruits and vegetables, contribute to overall hydration. Conversely, diets rich in salty or processed foods can exacerbate dehydration, as these foods can increase fluid loss.
As we mature into adulthood, our bodies undergo various changes, and the way we experience and exhibit dehydration symptoms can differ significantly from children or teenagers. Fatigue, dizziness, dry mouth, and concentrated urine are just a few of the signs that adults might encounter when their hydration levels dip below optimal.
Furthermore, chronic dehydration symptoms can be particularly concerning. When dehydration becomes a recurring issue, its symptoms can become more insidious and intertwined with our daily existence. From skin problems to digestive issues, the effects of long-term dehydration can permeate various aspects of our health.
In this upcoming series of articles, we will dissect the array of dehydration symptoms that adults should be wary of, understanding both their overt appearances and the subtle ways they can masquerade as other problems. Armed with this knowledge, we can empower ourselves to not only recognize dehydration but also take proactive steps to prevent it.
So, if you've ever wondered why that mid-afternoon slump hits you harder than it seems to hit others or why your skin doesn't quite have the radiance it should, join us on this insightful journey. Together, we will uncover the intricate web of dehydration symptoms that adults might encounter, and learn the best strategies to keep our bodies quenched, revitalized, and ready to tackle whatever life throws our way.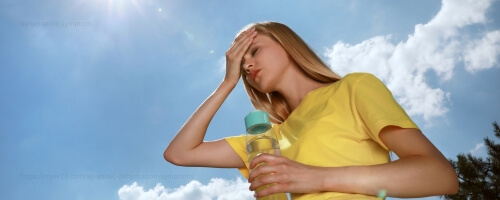 When the body is unable to properly store and utilize glucose, which is necessary for energy, both type 1 and type 2 diabetes can develop. After that, this glucose builds up in the blood and is unable to reach the cells that require it, posing a major risk of...
Diabetes, a chronic metabolic disorder, affects millions of Americans. As per the Centers for Disease Control and Prevention (CDC), over 34 million people in the U.S. have diabetes, and approximately 1 in 5 of them are unaware they have it. Recognizing the early signs...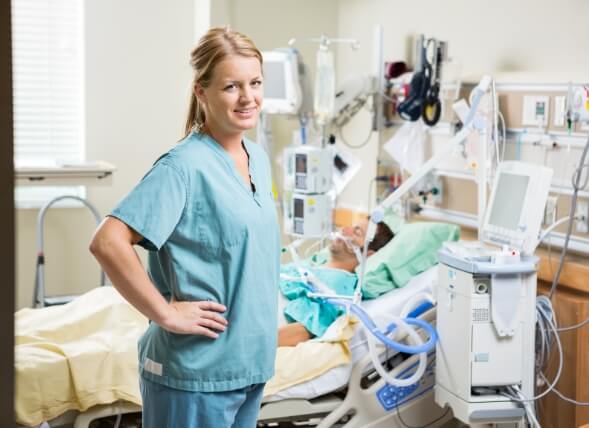 When we are experiencing dehydration symptoms
Empowering Adults for Optimal Hydration
Equipping adults with practical strategies to prevent and manage dehydration is paramount for their well-being. First and foremost, cultivating a habit of regular fluid intake – not solely reliant on thirst – is crucial. Setting reminders, carrying a water bottle, and incorporating hydrating foods are all effective ways to ensure consistent hydration. Understanding personal hydration needs based on factors like age, activity level, and climate is also essential. Monitoring urine color can serve as a simple indicator; pale yellow indicates proper hydration, while dark yellow suggests the need for more fluids.
Simple Signs to Watch Out For
Dehydration Symptoms &| Remedies
| Dehydration Symptoms | Remedies |
| --- | --- |
| Increased thirst | Drink more water |
| Dark yellow urine | Increase fluid intake |
| Reduced urine output | Drink fluids regularly |
| Dry mouth & skin | Sip water, use moisturizer |
| Tiredness or dizziness | Rest and rehydrate |
| Rapid heartbeat | Rest and seek medical advice |
| Sunken eyes | Drink water and rest |
| Confusion | Rehydrate and consult a doctor |
Dehydration is not a one-size-fits-all condition; its symptoms can manifest along a spectrum, varying in intensity and severity. At the milder end of this spectrum, individuals might notice a slightly parched mouth, a general feeling of fatigue, or increased thirst. As dehydration progresses, these signs can escalate to more pronounced symptoms like dark yellow urine, dizziness, and dry skin.
It's crucial to recognize that the body's response to dehydration can be influenced by factors such as age, overall health, and the surrounding environment. In adults, the spectrum of dehydration symptoms can be especially diverse due to physiological changes that occur as we age. This understanding enables us to better gauge the gravity of our hydration status and take action accordingly.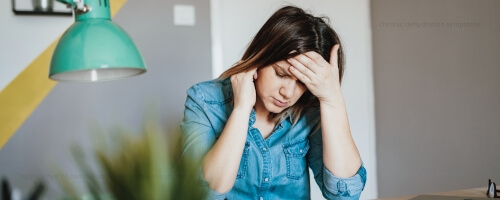 When it comes to dehydration symptoms in adults, it's important to dispel the notion that thirst is the sole indicator. While thirst is an essential signal from the body that it requires fluid replenishment, adults might experience other subtle signs that deserve equal attention. For instance, persistent fatigue, difficulty concentrating, and irritability can all be linked to inadequate hydration. Adults are more prone to attribute these symptoms to external factors, often overlooking their body's plea for hydration.
Moreover, the aging process itself can alter the body's thirst response, making it less sensitive. This means that adults might not feel as thirsty even when their hydration levels are suboptimal. Hence, relying solely on thirst as a gauge can lead to a delayed response in addressing dehydration.
Chronic dehydration, characterized by recurring bouts of insufficient fluid intake, can unleash a host of persistent symptoms that stealthily creep into daily life. While acute dehydration might be more readily recognizable due to its abrupt onset, chronic dehydration symptoms can be sneakier. Dry and itchy skin, frequent headaches, and digestive disturbances are among the indicators that could be masking underlying dehydration.
Adults who regularly experience these symptoms might find themselves trapped in a cycle, addressing each symptom individually without realizing that a fundamental issue – dehydration – is at the root. Recognizing these chronic dehydration symptoms requires a holistic perspective that connects the dots between seemingly unrelated health concerns.
Diabetes, a chronic metabolic disorder, affects millions of Americans. As per the Centers for Disease Control and Prevention (CDC), over 34 million people in the U.S. have diabetes, and approximately 1 in 5 of them are unaware they have it. Recognizing the early signs...